Always a double feature for one low price!
Adults
$8.00
Children (Ages 4-11)
$4.00
Under 4 Years Old
FREE
PLEASE NOTE:
We broadcast our movies in FM Stereo sound through your car radio. Bring a boom box if you are unable to use your car stereo. We do have a limited number of portable radios available to rent.


Help Keep Your Local Drive-In Thriving!
Please don't bring food in... patronize the concession stand. Menu Specials posted Nightly! You'll love our food & our prices! Arrive early & have dinner with us!


Outside Food & Beverage Permit:
Bringing outside food & beverages onto the property requires the purchase of a Permit at the entrance gate. Permit is $5 per car, per visit, & cannot be shared between vehicles. See explanation on F.A.Q. page to learn why we charge a fee to bring food onto our property.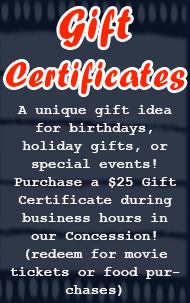 We are OPEN Fri, Sat, Sun & Mon this holiday weekend!
Friday, May 24th through Monday, May 27th
Box Office Opens: Fri and Sat - 7:00pm / Sun and Mon - 7:30pm
Our movie sound is broadcast in FM stereo through your car radio. Please bring a boombox
if you plan to sit outside your vehicle, or if your car radio is inoperable.
We have a limited number of portable radios on site for rent, if needed.

All features & coming features subject to change without notice.
Would you like to receive a text message each week with the show schedule and any other special information regarding The Elm Road Triple Drive-In? Join our text messaging service today!!

Click Here!
---



Blanket / Jacket

Flashlight

Portable FM radio/boombox, if you plan to sit outside your car. (We also rent radios on site)

Folding Chairs

Soft ball to toss on playground

Mosquito Spray