Always a double feature for one low price!
Adults
$10.00
Children (Ages 3-11)
$5.00
Under 3 Years Old
FREE

CASH only, for tickets!

CREDIT CARDS in concession.

There is a $10 Food Permit (per car) for bringing in food or drink from elsewhere. Food sales are vital to the survival of all drive-ins, since a large portion of our movie ticket revenue goes back to the film companies. Your support is appreciated! Learn more on F.A.Q. Page.
PLEASE NOTE:
Movie Sound
Our movie sound is in FM Stereo through your car radio (so be sure your radio works). If you are unable to use your car stereo, or if you plan to sit outside your vehicle, please bring a portable FM radio/boombox. We do have a limited number of portable radios available to rent.


Help Keep Your Local Drive-In Thriving!
Please don't bring food in... patronize the concession stand. Menu Specials posted Nightly! You'll love our food & our prices! Arrive early & have dinner with us!


Outside Food & Beverage Permit:
Bringing outside food & beverages onto the property requires the purchase of a Permit at the entrance gate. Permit is $10.00 per car, per visit, & cannot be shared between vehicles. See explanation on F.A.Q. page to learn why we charge a fee to bring food onto our property.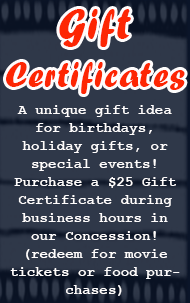 NOTE: All release dates are tentative and subject to movie studio confirmation.




Now OPEN on Fri thru Mon!
Gates OPEN at 7pm on Fri & Sat, & 8pm on Sun & Mon, so bring your appetite!
Come for one movie or stay for both...it is a bargain either way!
Visit our large Concession facility for carry-out Pizza, Appetizers, or Ice-Cream!
UPDATE: We will be CLOSED TONIGHT (Monday, June 1st). We plan to re-open on Friday June 5th for the weekend.

Would you like to receive a text message each week with the show schedule and any other special information regarding The Elm Road Triple Drive-In? Join our text messaging service today!!

Click Here!

Sign up for showtimes email here & get our movie schedule emailed to you weekly!

Click Here!
---



Blanket / Jacket

Flashlight

Portable FM radio/boombox, if you plan to sit outside your car. (We also rent radios on site)

Folding Chairs

Soft ball to toss on playground

Mosquito Spray