Always a double feature for one low price!
Adults
$10.00
Children (Ages 3-11)
$5.00
Under 3 Years Old
FREE

CASH only, for tickets!

CREDIT CARDS in concession.

Sign up for showtimes email here & get our movie schedule emailed to you weekly!

PLEASE NOTE:
Movie Sound
Our movie sound is in FM Stereo through your car radio (so be sure your radio works). If you are unable to use your car stereo, or if you plan to sit outside your vehicle, please bring a portable FM radio/boombox. We do have a limited number of portable radios available to rent.


Help Keep Your Local Drive-In Thriving!
Please don't bring food in... patronize the concession stand. Menu Specials posted Nightly! You'll love our food & our prices! Arrive early & have dinner with us!


Outside Food & Beverage Permit:
Bringing outside food & beverages onto the property requires the purchase of a Permit at the entrance gate. Permit is $10.00 per car, per visit, & cannot be shared between vehicles. See explanation on F.A.Q. page to learn why we charge a fee to bring food onto our property.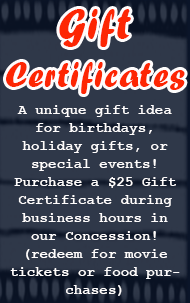 NOTE: All release dates are tentative and subject to movie studio confirmation.

Oct 11: The Addams Family
Oct 18: Zombieland, Double Tap




Now OPEN Fridays & Saturdays only!
NOTE: Our final night of the 2019 Season will be Oct 26th!
Gates OPEN at 6:30pm this Fri & Sat (Oct 18th & 19th)! Shows start at 7:30pm!
Please NOTE our EARLIER movie start times below, now that it gets dark earlier!
Visit our large concession facility for dinner, appetizers, or desserts!
Friday, October 18th through Saturday, October 19th
Box Office Opens: Fri & Sat: 6:30pm (Sun through Thurs - CLOSED)
Our movie sound is broadcast in FM stereo through your car radio. Please bring a boombox
if you plan to sit outside your vehicle, or if your car radio is inoperable.
We have a limited number of portable radios on site for rent, if needed.

* All features & coming features subject to change without notice.

* All movie start times are approximate, not guaranteed.

Looking for a spring/summer job, or do you know someone who is? Or perhaps just looking for a 2nd job on the weekends? We are now accepting applications for Season 2018 at the Elm Road Triple!
Whether you are a seasoned adult looking for additional income, or a high school or college student looking for a summer job, please keep in mind that a job with us requires that you are available to work evenings & weekends!
Click on Job Opportunities to fill out an application (must be 16 years or older to apply).
Our season consists of weekends only in April & May, then we are open 7 days a week in June through August, & then weekends only in Sept & Oct.
For our concession area, cooking/frying experience is always a plus!
*NOTE: Candidates of interest will be contacted by phone from a 586 area code.


Would you like to receive a text message each week with the show schedule and any other special information regarding The Elm Road Triple Drive-In? Join our text messaging service today!!

Click Here!
---


There is a $10 Food Permit (per car) for bringing in food or drink from elsewhere. Food sales are vital to the survival of all drive-ins, since a large portion of our movie ticket revenue goes back to the film companies. Your support is appreciated! Learn more on
F.A.Q. Page.

Blanket / Jacket

Flashlight

Portable FM radio/boombox, if you plan to sit outside your car. (We also rent radios on site)

Folding Chairs

Soft ball to toss on playground

Mosquito Spray